Onsite COVID-19 Immune Status Testing for Companies in the Triangle North Carolina Region
Our laboratory can provide you with these critical values for SARS-CoV-2 immune status. All three tests have FDA Emergency Use Authorization (EUA).
Total IgM/IgA/IgG antibodies to SARS-CoV-2.
Semi-quantitative IgG antibodies to the SARS-CoV-2 virus.
The presence and relative concentration of neutralizing antibodies against SARS-CoV-2.
The three different ELISA tests together give you a complete picture of your immune status to the COVID-19 virus.
We can schedule our phlebotomist to come to your company for blood draws, we provide a rapid turnaround for results to your secure website portal.
Locations served: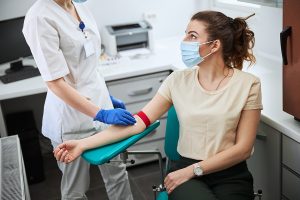 Research Triangle Park
Durham
Raleigh
Cary
Chapel Hill
Wake Forest
Morrisville
Apex
Garner
Holly Springs
Fuquay-Varina
Clayton
Give us a call at 919.381.5625 to schedule an appointment.
CLIA ID Number is 34D2222817.
More Information