About Us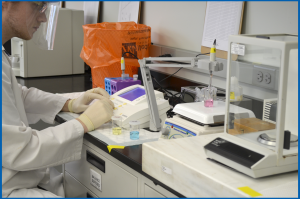 Invitrox Technologies is a CLIA certified medical-diagnostic-tool Company based upon revolutionary laser light-scattering technology. We are poised to improve healthcare professionals' ability to diagnose, monitor, and treat a number of medical conditions affecting millions of patients, ranging from various cardiovascular diseases to multiple types of cancer.
Our technology EQELS and ISADE uses laser light scattering to detect activities at the cellular (i.e., microparticle) level such as cell membrane fragments that report the cells metabolic state can be exploited as a diagnostic for various diseases and conditions. The speed, accuracy, and ease of use of our products, EQELS and ISADE as well as our accompanying assays, will find broad acceptance in hospitals, reference labs, and possibly even in large physicians' offices in markets valued at hundreds of millions of dollars per year worldwide.
Invitrox Bioanalytical Services (IBS) provides world class services for LC-MS/MS, Method Development and Method Validation.
Therapeutic Drug Monitoring services are available for select treatments. A fully QC/QA reviewed report is provided for all studies and includes concentration data for unknown specimen(s), run performance statistics, chromatographs, method specifications, and the option to include calculated pharmacokinetic parameters.
IBS study designs for DMPK modeling studies use Phoenix WinNonlin 8.0 software with the full system validation.
Invitrox Bioanalytical Services operates under the scope of GLP (21 CFR Part 58 and 21 CFR Part 11), CLIA '88 and of a mature Quality Management System.
Please email us for more information at info@invitrox.com