About Us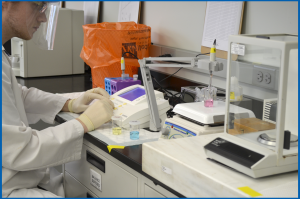 INVITROX, Inc. is a scientifically-driven contract research organization (CRO) providing preclinical drug discovery and drug development (nonclinical GLP, toxicology, and Phase I-IV Clinical) services to the biotechnology, pharmaceutical and medical device industries.
Additionally, Invitrox, Inc. maintains a CLIA registered medical diagnostics laboratory focused on the application of revolutionary laser light-scattering technology to therapeutic applications.
Invitrox's mission is to accelerate the discovery and development of safe and effective medical therapeutics through a science-driven operations management, focusing on dependable data delivery through the use of carefully validated methods which exemplify reliability, robustness, and overall scientific excellence. We maintain an experienced laboratory staff of scientists averaging 10+ years of lab experience, a team of regulatory consultants with former FDA experience, as well as a network of therapeutic KOL's, providing deep therapeutic expertise across all major areas, notably oncology, cardiology, CNS, and anti-virals.
Please email us for more information at info@invitrox.com