Mission Statement:
We are committed to providing advanced, state-of-the-art testing and
providing our clients with accurate and reliable test results.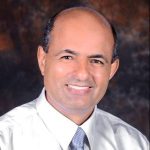 Laboratory Director
Abdel Halim, PharmD, MSc, PhD, DABCC-MD, DABCC-CC, DABCC-Tox, FAACC
Dr. Halim is a world class expert with 25+ years of experience in biomarkers and precision medicine.  He led efforts to develop and qualify assays for hundreds of biomarkers on different technologies and utilized them for patient management and drug industry.
Dr. Halim holds a Pharm D, two master degrees and a PhD in Cancer Molecular Biology, two post-doctoral fellowships and he is one of only four lab professionals in the USA who are triple board certified in Clinical Chemistry, Molecular Diagnostics, and Toxicology. 
Our laboratory is located in the heart of
Research Triangle Park, North Carolina:
Located right in the heart of Research Triangle Park (RTP).  RTP is the leading and largest high technology research and science park in North America. Founded in 1959, this 7,000-acre namesake for the entire Triangle region is two miles wide and eight miles long. Research Triangle Park is based in Durham with an extension now spilling into Wake County toward Cary and Morrisville.
Just four miles from Downtown Durham and encompassed on three sides by the City of Durham, RTP was originally named for its affiliation with three major research universities: Duke University in Durham, the University of North Carolina at Chapel Hill, and North Carolina State University in Raleigh. This part of Durham is approximately equidistant between Raleigh and Chapel Hill.
Today, RTP is surrounded by a variety of other Durham business and corporate parks populated by pharmaceutical, microelectronic, biotechnology, telecommunications, and textile businesses, to name a few. Research Triangle Park is not a city, but it has a special Durham postal substation – Research Triangle Park, NC 27709. It exists in a special county district, serviced by Durham utilities.